About Paul Robinson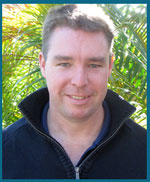 Paul grew up in Bundaberg, Queensland.
He studied veterinary science at the University
of Queensland, graduating in 1999.
In 2003, Paul began a 3 year residency in equine surgery and lameness at Michigan State University in the USA.
In 2007 Paul was accepted as a Diplomate of the American College of Veterinary Surgeons.
ACVS Board Certified Surgeon - Definition
Returning to Australia, Paul spent two years in Scone, NSW before returning to South East Queensland. 
For the last 2 years, Paul has been the resident surgeon at Gold Coast Equine Clinic in Bundall.
Paul's wife Regan, who is a physiotherapist, also grew up in Bundaberg and is currently busy as the mother of their two little girls.
Paul looks forward to continuing his research interests and has been invited to be an advisor on a clinical trial relating to prevention of osteoarthritis in juvenile thoroughbreds.
Paul's publications include research papers in peer-reviewed journals and he has spoken at international equine veterinary meetings here and in the USA.
Paul is a registered specialist in equine surgery.
Contact Details

PO Box 18, Ashmore City, QLD, 4214
E-mail:info@equinesurgeon.com.au
Web: www.equinesurgeon.com.au